Back to all posts
Posted on
Honouring Spirit Award Nominees - Kendall Kowerchuk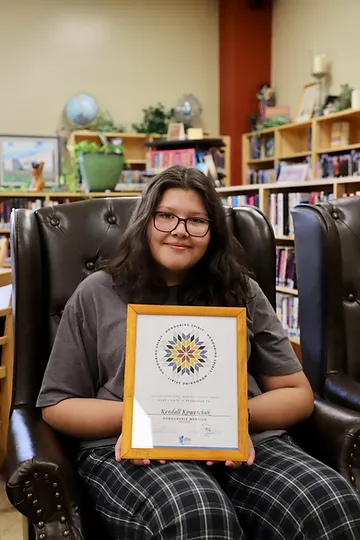 In honour of Indigenous Peoples' Day, we would like to give a shoutout to Marcel Jenkins & Kendall Kowerchuk who were both nominated for the 2023 Honouring Spirit Award.
Kendall Kowerchuk, Grade 9
Kendall Kowerchuk has committed herself to claiming her identity as a nêhiyaw-iskwêw. She embraces her culture wholeheartedly and acts as a leader amongst her peers. She shares openly about how she spent last summer helping her auntie make star blankets, and how she is very excited to have just finished making her first jingle dress. Kendall's goal is to ensure that her generation does not lose touch with their cultural traditions, and she is dedicated to this both as an advocate and a practitioner of her Cree traditions. Kendall is inspired by the values of her kookum and mooshum, and she hopes to learn more from her Dad who is a pow wow dancer. She also hopes to learn more about hunting, trapping, and living off the land as she gets older.